NCA Nationals might be moved to another city - here's why...​
Plans to relocate NCA Nationals (aka the largest cheer competition in the world) have been discussed since last year, but have recently made headlines again.
It all started last year when it was announced that the city council members in Dallas approved a plan to construct a new $4 billion convention center (
article
) - intending to replace the current NCA arena.
Now, it looks like they're officially considering applications from other venues to host the competition, as this LinkedIn post says: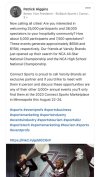 Here's some of what the link from the post above says:
"The National Cheerleaders Association (NCA) is seeking a host site for its AII-Star National Championship and its NCA High School National Championship

between 2026 and 2031

. Both are among the most prestigious events in the industry."

"Attendees:

25,000 participants and 38,000 spectators (All-Star); 5,000 participants and 7,500 spectators (High School)

Estimated Total Hotel Room Nights:

Approx 38,000 (All-Star); 8,000 (High School)

Economic Impact:

Approx $65 million (All-Star); $15 Million (High School).

Figures based on 2023 events." Click here to read the entire information.
Now everyone is sharing their opinions on where the competition should be moved, and there are countless suggestions for venues around the US 🗺️
We want to hear from you too! Where do you think NCA should be held?​
---
Enjoyed reading this recap? We think you'll like our weekly newsletter, where this is taken from! Subscribe (it's free) here & get the latest news every Monday!